Good evening my little Jerdlets!
I know there has been an inordinate amount of movie chatter the past week or so, but it just seems that the news keeps dropping and catching my attention.  I promise to drop some life-coaching of the fitness variety on you later this… Ooooh look, shiny object!!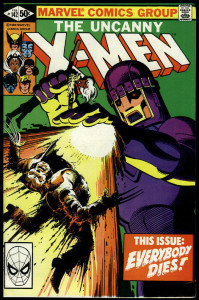 So it seems that today in an interview with IGN that Bryan Singer, executive producer of the X-Men films and director of the first two, confirmed that X-Men: Days of Future Past will be the title of the second X-Men: First Class movie, expected in theaters in 2014.  "Days of Future Past" was a two issue (#141 & 142) story written by Chris Claremont and illustrated by John Byrne in 1981 during what a lot of comic fans think of as the Golden Era of the X-Men.  It was these two issues that really set the tone for a dystopian future, where mutants are hunted and held in concentration camps, that has been a constant theme through the X-books ever since.  This is also the story where Sentinels were transformed into royal bad-asses.  While a pretty ground-breaking story for its time, it also dealt with a lot of topics that rarely seem to work in cinemaland.
Namely time travel and mind transference (think "Freaky Friday" or any other horrible movie where a parent and a kid swap bodies).
Now it is already a minefield if one of those bad boys makes it into a script; but both of them?!?!  Maybe they would act as some sort of cinematic double negative and cancel each other's potential fail out? Can't say I would bank on that unfortunately.  The thing is though, that I don't think Matthew Vaughn will fall into those traps (time travel has to be a part of it, but to what extent?) which raises another potential issue… how much will he change the story???  The problem with these fan favorite story arcs from the comics is that they come with a large amount of fan expectation.  Change too much and you incite a lot of nerd-rage, don't change enough to make the story transferable to the big screen, and accessible to the masses, then you have a box office failure.
Its a tough spot to be in for sure.  I wasn't a big fan of "X-men: First Class", and "X-men: The Last Stand" badly butchered another fan favorite storyline to the point of it almost being unrecognizable; so maybe one of my other favorite X-stories following it up will turn the franchise around for me? 
Let's hear it X-fans…  how do you feel about Days of Future Past making it onto the big screen?