Not every meal has to take copious amounts of prep time nor be 100% clean.
You don't even always have to be a whiz in the kitchen.
That's right. You can make a healthy, delicious, low-calorie meal even if you suck at cooking! Who woulda thunk it?!?
Sausage w/ Peppers and Onions

There are so many great things about a meal like this!
It works for breakfast, lunch or dinner
Easy to cook
Almost zero prep time is required
Is relatively inexpensive
Not to mention it scales easily if you want to make enough for left-overs! It clocks in at about 385 calories and provides approx 30 grams of protein/4 grams of fiber/30 grams of carbs. What more can you ask for?
Prep Time = 5 Mins Cook Time = 10 Mins Total Time = 15 Mins
Ingredients (Serves 2):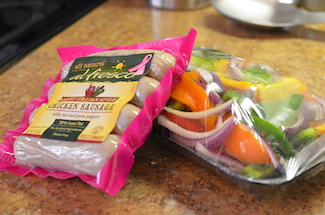 1 package (4 count) of Sweet Italian Style Chicken Sausage
1 package of pre-cut peppers/onions*
Optional:
* Note – Most stores have started catering to the lazy busy and sell pre-cut veggies… so if you aren't keen on slicing onions and de-seeding peppers this is definitely the way to go. If your store sucks and doesn't sell pre-packaged kitchen salvation then grab a green pepper, a yellow pepper, a red pepper and an onion and get to slicing!