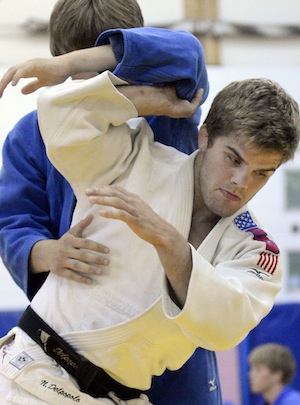 I've been lucky enough to have had the pleasure to train Judo (albeit very poorly) with 2012 Olympic Judoka, Nick Delpopolo on several occasions. I've always been immensely impressed by his work-ethic, humbleness and willingness to go the extra mile when teaching and I thought he might have some wisdom to share with my loyal readers; so I went out on a limb and asked him if he would be willing to take the time and talk about Judo, fitness and what motivates him to compete…
Luckily, he agreed and not only did we talk about violently throwing people on their heads, but also Starcraft, Game of Thrones and Snake Plissken. That's right aspiring Jerds, this Olympian is a giant geek!
So let's see what makes Nick Delpopolo tick, shall we?
The Jerd – "Hey Nick, thanks for sitting down with me today! I wanted to thank you for taking the time to talk to our readers about yourself. So before we get into me winging questions at you, would you mind telling the readers, who might not be familiar with you, a little bit about yourself?"
Nick Delpopolo – "Well, thanks for having me Jeff. I really appreciate the opportunity! My name is Nick Delpopolo. I'm a 2012 Olympian for the sport of Judo; I've been doing Judo for the last 20 years of my life and I am aiming to be the first make gold medalist in that sport for the Unites States."
The Jerd – "That's awesome! So 20 years huh?"